Crystal Grand Music Theater
A Special Night Out!
Stepping into the Crystal Grand Music Theater is like entering an elegant ballroom. The main hall and ticket desk are beautifully adorned with chandeliers, and hues of lavenders, deep purple and whites and you get an instant feeling of a very special night out!  The seating in the theater is plush and all seats have a terrific view of the stage.
So, instead of paying outrageous concert ticket prices only to stand or sit closely together in an arena, looking from your binoculars....this theater choice is far from that!  We are certain that every show is of the highest standards and in the comfort of a very elegant theater with awesome seating.  
The Crystal Grand Music Theater now offers several packages including the overnight room package or the Tailgating party package!  The two hotels they are associated with, Copa Cabana and Kalahari, for the room package, are very popular and offer all kinds of amenities.  The theater's front desk is open to the public to purchase tickets from 9-5, Monday through Friday.  Tickets are also available online.  
We were fortunate to see three amazing siblings, The Band Perry, who have been singing since very young, and they were outstanding.  We booked early so we had great seating just stage right and in row fourteen. Kimberly, the lead singer, really is an amazing voice talent. Her command of the stage make it feel like I was personally invited to enjoy the show.  Kimberly's brothers, Neil and Reid, also vocalists, were amazing harmony and play several instruments.  What a talented trio! They were so entertaining and made all of us feel we had known them forever!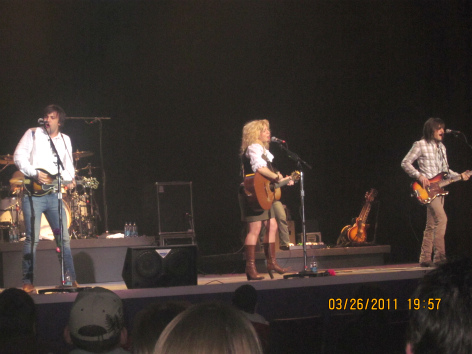 The Band Perry's hit song, "If I Die Young" has gone platinum, and has most recently been a catalyst to the band winning the "New Artist of the Year", from the Academy of Country Music Awards.  Of course, we voted for them especially after seeing them perform at the Crystal Grand Music Theater.  You can go on their website and get a schedule of performances, sometimes up to a year out.  And, wow, you just can't beat the price of tickets...this is simply the best deal in the Midwest.  Book early and enjoy the show!
They recently offered offer musical venues like Kenny Rogers, stand up comedy Larry the Cable Guy, and a Christmas show with Sara Evans. I'm certain all shows are incredible. These artist's must love coming here...it's so plush and comfortable.  
My husband and I are huge music buffs, loving and appreciating all kinds of music, especially groups or bands that cross over many genre's, mixing rock with country and R&B with folk-it all works!  Our son Andy, is one of the lead singer's in a band, Sharp and Harkins Band (SHIB's),so we know what goes into pulling off a great night of entertainment. 
And to be able to perform in the likes of the Crystal Grand Wisconsin Dells , is just short of a treat!!  All in all, this theater showcases some awesome talent, and perhaps some day our son will be up on their stage!!   
Enjoy the show~
Location & Contact Information
Crystal Grand Music Theater
430 W Munroe Ave
Wisconsin Dells, WI 53965
800-696-7999 or 608-254-4545
Crystal Grand Theater
Map Location
Crystal Grand Music Theater to Wisconsin Dells Attractions Home Page
Crystal Grand Music Theater to Wisconsin Dells Attractions